You people all think I am crazy anyhow, so this shouldn't surprise you at all.


I have been sleeping on the floor on an air mattress for the last 26 days.

I had company last month and dragged out the air mattress. I inflated it with my hair dryer and it looked so comfortable.

Some background may be necessary.

When I was a little girl my family would visit at my grandparent's house in Temple, Texas quite often. In the spare bedroom, there were two twin beds. Some of my best mornings were spent in that bedroom. I can remember the windows (3) open, the birds outside twittering, the early morning sun streaming in to the windows and the white, filmy curtains fluttering.


And I remember The Nest.

"The Nest" is what my mother and her sisters and brothers had come to call the twin bed against the window wall in the back bedroom. It was an old twin mattress and its inner springs had fallen and sunken in. This actually made the bed better because you sunk into the mattress and it enveloped you all around. It was cozy and indeed a "nest".

I always wanted The Nest. I think that some of my family didn't like The Nest. They used the term mockingly in reference to its inadequate support. Ah, but I loved it and would tell my mom on the drive down to Temple that I wanted to sleep in The Nest.

Ever since, I have to have a soft bed.

At home growing up I had a foam mattress. It was soft and squishy and wonderful.

It was later replaced with another foam mattress that wasn't so great. A bit too stiff for my like. I would jump on it from time to time to try to break it in and make it softer. It didn't work.

Sometime before I got married, I obtained a "real bed"-- a queen size and I don't know what became of my old twin mattress. I have a feeling my mother gave it to my uncle.

Sleeping on the queen bed was like sleeping on a board. Who would CHOOSE to sleep on a board?
*********
At my Uncle Franklin's house in Taylor, Texas there was a double bed in the upstairs guest bedroom. There actually was a board under that mattress. I can remember my mother enlisting my father into pulling out the board (doors closed) each night that they slept in that bedroom and replacing the board each morning before my aunt and uncle were any wiser.


I would watch them yank it out as silently as they could so as to not arouse suspicion. I never could imagine why someone would WANT to sleep on a board. Seemed to me like that is why beds were invented in the first place; to make a softer place to sleep! After all, do not wild animals on the African savannah also choose their sleeping spot carefully and tamp down the grass to make a soft place to lie? Do not wild birds build nests of grass and twigs, lining the nest carefully with down that they plucked form their own bellies to make a soft place for their eggs and chicks??

*************
So that queen mattress that was now mine, needed major modifications.

I asked for a feather-bed that Christmas.

The feather-bed that I got was a 3-inch thick box-baffled mat full of goose feathers. I still have it and up until my record-breaking flu and fever this past February, I have been sleeping on it ever since. (The feathers kept me too warm, so off it came in the midst of 105 fever.)

Well since that fever, I haven't replaced my feather-bed. It was losing some of its "oomph" anyhow.

So as I was deflating the bed after my guests left last month, I began eyeing that air mattress.

It is a Coleman brand queen-sized air mattress and it is quite nice. It has velveteen lining and it fits standard queen-sized sheets perfectly.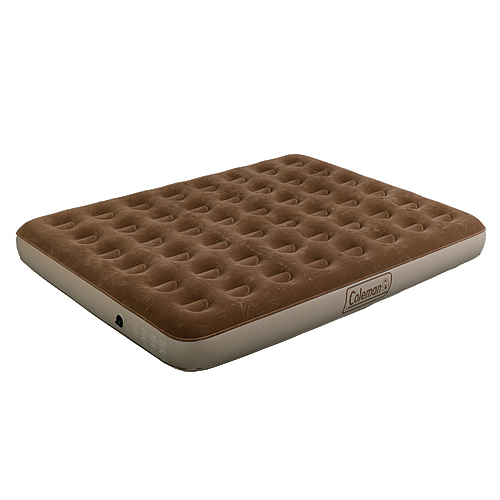 If I had a place to put my yucky, stiff mattress-- then I would put this air mattress on top of my box spring and fake it out. Who would ever know?

So yes, I have been sleeping on the floor on that air mattress for the last 26 days.

...and my slumber has never been more sweet.


.